Turun Harga!!!!

New Arrival
Load Balance Broadband Router
TL-R470T+

spesifikasi :
*Changeable WAN/LAN ports for flexible network resource allocation
*Multiple load balance strategies for maximizing total bandwidth
*Advanced QoS feature guarantees the requirements of different bandwidth applications
What This Product Does:
The TL-R470T+ Load Balance Broadband Router possesses stronger data transmission capacity and stability, cost-efficient for networks in places such as Internet cafes and small offices.
Superior Performance and High Stability
The router features a network dedicated processor, clocked at 400MHz for powerful processing performance, an internal power supply to allow for long term operation stability, and professional lightning protection design keeps your investments as safe as possible.
Three Changeable LAN/WAN Ports
The TL-R470T+ features three changeable ports that can be set to either LAN or WAN, allowing the router to support up to four WAN ports to satisfy various Internet access requirements through one device.
The router also has an integrated smart load balancing function which automatically selects the most efficient line according to load and bandwidth requirements, providing users with consistent network uptime and reliable Ethernet connectivity.
By the factory default, TL-R470T+ is set to work in the dual WAN ports mode: port 1 and port 2 are working as WAN ports, while port 3~5 are LAN ports.
Management for a Fluid Networking Experience
Integrating multiple load balancing strategies, IP and port based bandwidth control, session limit, domain filtering, and IP/MAC address filtering, the TL-R470T+ provides users with a fluid network experience, without lag and connection drops.
Easy to Install and Use
With user-friendly web-based management, remote management and configuration backup & restore functions, the TL-R470T+ provides many comprehensive features that are easy to deploy and maintain, especially for businesses lacking professional IT staff.

150Mbps Mini Wireless N USB Adapter
TL-WN723N
spesifikasi :
A tiny way to get speedy wireless connections without sacrificing wireless performance
Excellent N speed up to 150Mbps allowing for optimum video streaming or Internet calls
Easy one-touch wireless security encryption with the Quick Security Setup button
Supports Windows 2000 / XP / Vista / 7
[b]
Update : 15 April 2011

BEST PRICE Minggu ini
Wireless Router + router 3g
WR-340G
@ 153,000
Up to 54Mbps wireless data rate and fully Compatible with IEEE 802.11b
WDS wireless bridge provides seamless bridging to expand your wireless network
Enhanced Wireless Security with WPA/WPA2 authentication, TKIP/AES encryption and 64/128/152-bit WEP encryption
Share data and internet access
WR-740N
@ 160,000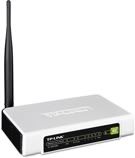 Exceptional wireless speed up to 150Mbps
Wireless security encryption easily at a push of QSS button
Supports SPI firewall and access control management for safer usage
QoS enables multiple applications to stream smoothly to Your TV or PC
Compact design enabling flexible deployment
MR3220
@ 275,000
3G Connectivity On-the-Go
Exceptional wireless speed up to 150Mbps
3G/WAN Connection Back-up
Wireless adapter
WN821N
@ 140,000
300Mbps Wireless transmission rate
MIMO technology with stronger signal penetration strength, wider wireless coverage, providing better performance and stability
CCA technology automatically avoids channel conflicts using its channel selection feature
Compatible with 11g and 11b equipment, Intel Centrino Compatibility tested
WN7200nd
@ 140,000
High power and receive sensitivity to bring ultra-long transmission distance
Stronger penetrability to across multiple walls or floors
150Mbps transmit rates to deliver better performance
One button to easily setup a highly secured wireless link
Supports Sony PSP X-link for Windows XP
WN350GD
@ 85,000
Up to 54Mbps and fully Compatible with IEEE 802.11g & 802.11b products
Easily connect to network, to surf internet, play online game, share files
WPA/WPA2 data security, IEEE 802.1x authentication, TKIP/AES encryption, 64/128/152-bit WEP encryption
Wireless Access Point ( AP )
WA500G
@ 165,000
54M Wireless LAN Access Point, 2.4GHz, 802.11g/b.
Supports WDS, Supports AP/AP Client/Repeater/Bridge/Multi-Bridge mode
Adopts 2x to 3x eXtended Range™ technology.
Integrates PD (Powered Device) module
Detachable reverse SMA connector Antenna
WA5210
@ 380,000
Outdoor weatherproof and lightning/ESD protection design
12dBi dual-polarized antenna easy to build up to 15km wireless link
High Power to boost your signal coverage and link speed
Passive Power over Ethernet for flexible deployment
WISP Mode Supported
Switch Hub
TL-SF1016D
@ 164,000
16-port 10/100M Fast Ethernet Desktop Switch
Supports MAC address self-learning and auto MDI/MDIX.
TL-SF1016
@ 268,000
Supports MAC address self-learning and auto MDI/MDIX.
Standard 19-inch rack-mountable steel case.

TL-SF1024
@ 370,000
24 10/100M RJ45 ports.
Supports MAC address self-learning and auto MDI/MDIX.
Standard 19-inch rack-mountable steel case.
Modem router adsl
TD-8817 1 ethernet port and 1 USB port ADSL2+ modem router w/ bridge and NAT, Trendchip, Annex A, with ADSL spliter
@ 115,000
Latest ADSL standards for superior performance: up to 24Mbps downstream
Various QoS policies enable various application, meeting peoples different needs
High speed DSL connection, sharing Internet access
MC1400 14-slot unmanaged Fiber Converter Chassis, single power supply, 19-inch rack mountable
@ 1,385,000
14 bays to house up to 14 media converters
Optional redundant power supply to ensure non-stop reliable operation
Hot-Swappable; easy & quick replacement of converter and power supply
Mounted two cooling fans for better ventilation
penampakan :
http://palugada.net/search.php?search=tp-link
untuk pricelist lengkap ( all item ) :
http://groups.yahoo.com/group/paluga...April-2011.xls
lanjutan di bawah......
Spesifikasi dan Informasi lebih lanjut:
www.tplink.com

Contact Us:
Online Shopping:
http://www.palugada.net
atau
http://www.palugada.com
Akses Via Mobile:
http://m.palugada.net
Palugada.Net/.Com
Harco Mas Lt.1 No.73-75, Mangga Dua
Jakarta Pusat 10730
Tel : +62-21-62304060 / +62-21-30006111 / +62-21-30005568
SMS Center: 021-71010994
Fax : +62-21-62304060
Hari dan Jam Kerja: Senin s/d Sabtu, pk 09:30 - 18:30
Yahoo Messenger: palugada_com ; palugadanet
palugada_com:
palugadanet :
Konsultasi Produk Networking:
palugada_jaringan :
Facebook:
http://www.facebook.com/group.php?gid=103192221506
Twitter: palugada
E-mail :
support@palugada.net
Blog:
http://palugadacom.blogspot.com